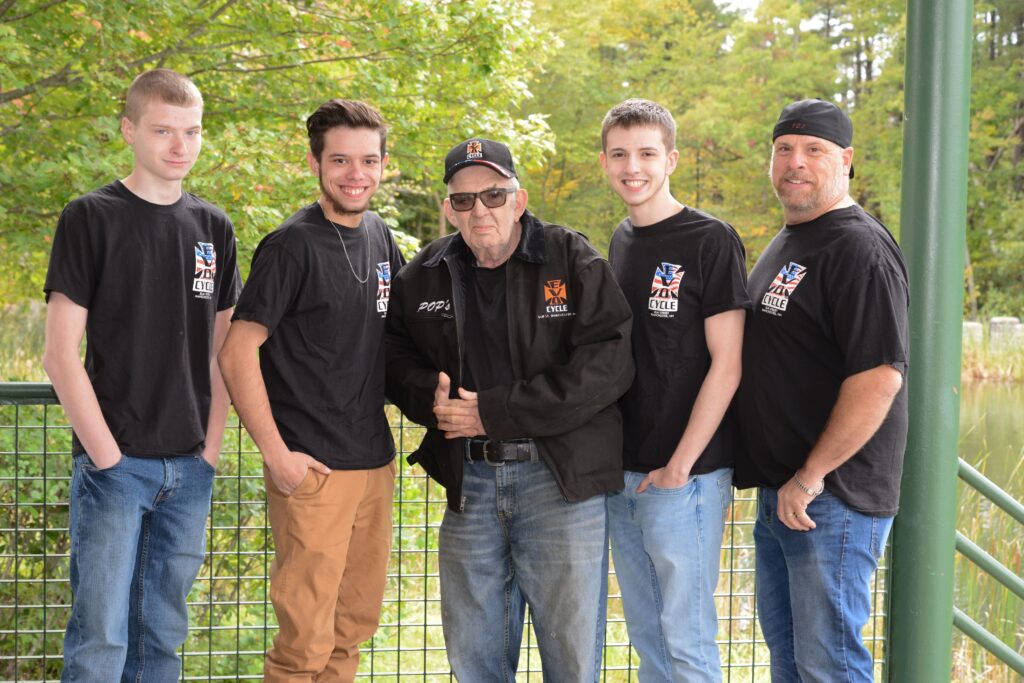 Evocycle, a family-owned shop, is located on the almost-corner of Queen City Ave and Elm Street in Manchester, New Hampshire. Evocycle was founded by two best friends from kindergarten in March of 2003. Due to health concerns, co-founder Steve had to step down from the top spot in 2004. Despite the unfortunate loss of Steve's departure, the Evocycle 'family' has continued to grow. The customers to friends ratio is one that separates Evo from other bike shops in the Manchester area. Troy, who has been married for over thirty-five years and has three awesome boys (plus a granddaughter), started his journey to be a mechanic at the age of eight. It began with taking bicycles apart, then grew into minibikes, then dirtbikes, quads, snowmobiles, and eventually cars and street bikes. (We are unable to confirm the source of funds for Troy's childhood hobbies as they were surely quite expensive.) Although Evocycle does not condone irresponsible riding behavior, his philosophy is that "wheelies is where it's at on a motorcycle." The need for speed continued with races to the beach on the original 1986 Suzuki GSX-R750.
One of Evocyle's mottos is "your bike is our bike." No matter what you ride, they understand it's your baby. Whether it's a 1984 Kawasaki ltd 550 or a high-priced Harley, Evo understands. They get the budget — your budget, you ride what you have.
No one shop can hire an "expert" for every type of bike out there — that's simply unrealistic. But over 20 years in business and many more in the riding community gives Troy untapped access to the knowledge amongst the community. In the same way Evocycle is able to source uncommon parts through their connections, they are able to access specialized knowledge on all bike types. This means that even if they don't know everything about your bike, they can easily get in contact with someone who does. Let their Facebook/blog pages speak for themselves.
Notable bikes Evocycle has worked on in the past:
Batcycle from the 70s tv series by Burt Ward, the original robin (1963 Yamaha yds3 250cc 2-stroke)
Vintage Harley triumphs & Japanese motorcycles
2021 Road Glides
1985 Fxr Custom choppers
If you come to Evo, prepare yourself to receive a ton of information about your bike and all bikes in general. Troy, who can be found out back smacking bikes with wrenches, loves to share his knowledge and experience with customers. They will talk you through your bike's needs, and talk you out of goofy stuff you are probably thinking of doing with your bike.
We invite you to check out the shop on the legendary Elm St of Manchester NH!
As always, ride somewhat safe and rock ON!